Description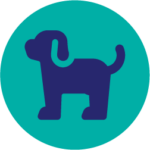 Designed just for for dogs.
Pancreatic Elastase & Beta-Glucuronidase
Better digestion equals better absorption of nutrients
The Digestion & Detox test can identify how well your pet is digesting food and level of detox activity. Low Pancreatic Elastase can identify inadequate digestive enzymes, also called exocrine pancreatic insufficiency (EPI). Digestive enzymes are secreted by the pancreas to digest food. EPI can lead to malabsorption and maldigestion because the pancreas is not functioning properly. Beta-glucuronidase is an enzyme produced by both dogs and people, as well as certain gut bacteria. It helps with the breakdown of complex carbohydrates. It plays a role in the detoxification process by breaking down toxins and hormones. High levels of beta-glucuronidase can could be indicative of excess gut bacteria. Very high levels of beta-glucuronidase have been associated with disease.